Verify the product structural prototype manufacture solutions:
Customer in order to verify the rationality of the product size before manufacturing plastic product,
specialized produced structure prototype to check if there are problems of the product assembly. So,
to select the most reasonable solution from the point of view of most economical production cost.

If the parts of prototype produced simply both positive and negative directions to process(picture B1-1),
adopt CNC prototype to manufacture is the most reasonable. Because CNC is the cheapest among all
processing method, the second is SLA prototype, and SLS prototype is the highest.

When the structure and size of the parts of the prototype are very small(picture B1-2,the size of the
letter only 1*1mm,and the interval of the letter only 0.2mm),adopt SLA prototype is the most reasonable.
Because it's a process time-consuming for the product structure by CNC processing. Therefore, it is
very high to adopt CNC processing .

When the produced product structure more than two directions to process(picture B1-3),adopt SLA to
process is the most reasonable to avoid positioning errors due to loading and unloading.

Generally do not recommend using the SLS prototype processing method to produce structure
prototypes, as the cost is too high.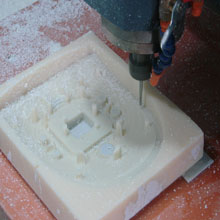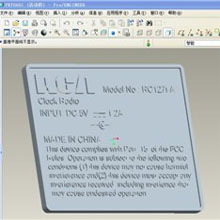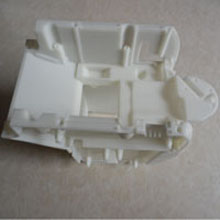 picture B1-1 picture B1-2 picture B1-3